Dropshipping: the best E-Commerce Business Model for 2019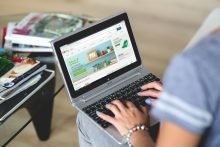 What is Dropshipping?
Dropshipping is an e-commerce business model where the store doesn't need to have the inventory physically. It works like this: The store owner lists products to his online store. When he gets an order for an item, he purchases it from a third party supplier and ships it directly to the buyer. As a result, the seller never stores or handles the product. Check out the complete 2019 list of dropshipping tools.
The great advantages of dropshipping
Dropshipping has been proven to be a beneficial method to make an online business. It's a fact that already too many people make a living out of it. But why do most dropshippers use eBay as drop shipping platform?
The biggest advantage when it comes to dropshipping is that you don't have to invest a lot of resources into it. With this model, you don't have to purchase an item until the moment a buyer actually buys it. The opportunity to open a business without having a huge commitment to inventory is a key factor of using dropshipping. It also means that you don't need a lot of money in order to open a business with this business model.
In addition, it's simple and easy to kick off, and since you don't have to actually keep an inventory of the products anywhere, there is no need to deal with their packaging and shipping process.
Dynamic Location – A dropshipping store can be run from any the place that has wifi infrastructure. The only thing that a dropshipper needs is proper communication with the supplier of the products and with the paying customers which can be done with some simple tools.
What are the Cons of this method?
Sure, as with anything in the world, the main disadvantage here is that the profit margin for each sale is pretty thin, but you can still get high profitability when you hit high sales target, which is not a very hard mission, as you are not really holding the inventory physically.
So where do I have to start?
The dropshipping business model exists in many marketplaces like Amazon, eBay, and many other marketplaces
We suggest to start the dropshipping business especially on the eBay platform, and here is why:
eBay is very easy for beginners and very comfortable platform, the good thing with eBay is that it's easy to drive traffic into your store, directly from eBay, also you can start selling on eBay the first 50 products for without putting any funds into it.
eBay policy - when it comes restrictions there is no room for mistakes if you are dealing with Amazon, your account can be suspended with an instant. On the other hand, eBay gives more place for a learning curve and fits more someone who wants to begin his dropshipping business.
What do I need in order to run eBay dropshipping business?
If you have already taken the decision to open your first eBay dropshipping business, here is what you need:
It is highly recommended that you work with automated software that will manage the operation for you. It is important to use a software that can track the stock and prices from your suppliers, and automatically make changes in order not to lose money. One of the best software that you can find in the market today is AutoDS

.
This platform is an all-in-one dropshipping tool that manages everything. Here is what it does:
Finds for you automatically profitable products.

Uploads your products in bulk or one by one.

Price & Stock monitoring in order to keep your profit and not lose money when the supplier changes a price.

Automatic orders placement so we get the price that the supplier has immediately after we got an order

Full customer support system.
AutoDS supports suppliers like Amazon, Ali Express, Banggood, Walmart and Home Depot. You can import their products automatically into your eBay store, with just a click of the button.
It will grab all the products' specifics from the supplier, along with their title, description, price etc. After that, it will upload them directly to your eBay store with the preferred settings. We highly recommend giving the dropshipping business model a try.